Facebook advertising, as we've previously written, is a great marketing tool for small businesses. The ability to target ads based on geography, age, sex and preferences has allowed businesses with limited budgets to run highly targeted ad campaigns. With Facebook recently announcing a new and improved analytics layout, advertisers can now more accurately tweak their messaging.
Facebook started rolling out their "promoted posts"  feature a couple months ago, and we're starting to see their results. For the uninitiated, promoted posts allow you to have your Facebook post placed optimally on your fans and friends of fans for one-to-three days.
You can further break down your posts based on location, age and gender. Unlike Facebook advertising however, you can't specify your ads  based on people's interests.
For companies with a limited budget, promoted posts are a cost-effective way to increase followers and to obtain a flash-flood of publicity. As the posts have a shelf-life of three days, promoted posts are a great way to advertise events, sales or other time-sensitive promotions.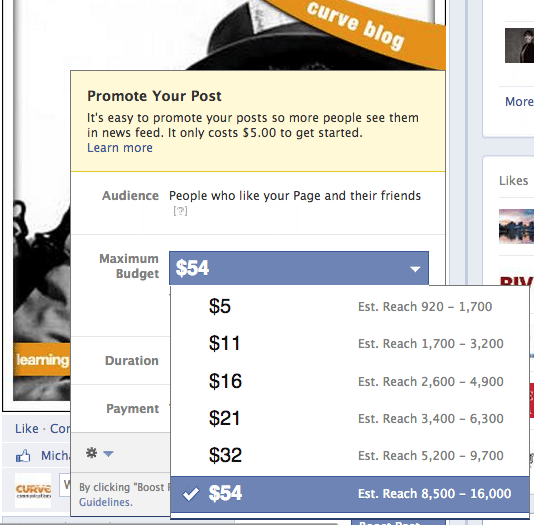 Promoted posts are especially handy for smaller businesses. Whereas a larger business may only increase its reach by 10% by using a promoted post, a business of 5,000 fans may double its reach for as little as $10!
Courtesy of Facebook, Mashable presented a couple case studies, illustrating the usefulleness of promoted posts:
Sam's Chowder House, a local restaurant in Half Moon Bay, CA, used Promoted Posts to drive a 19% increase in their monthly guest volume and gross revenue.
Meredith Manor, an equestrian career college in West Virginia, promoted a photo post of a student on her horse doing a challenging jump, and reached 4x more people and garnered 3.5x more engagement than a typical post, thanks to a paid promotion.
Of course, promoted posts are only a viable option if you already have a Facebook following. As such, make sure to have a business page set up and post content consistently.