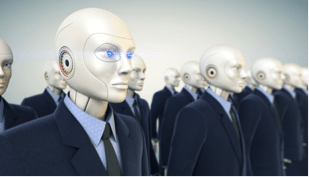 This blog post was written by Curve Communication intern Jenna MacDonald
According to the latest stats, as many as 80 per cent of CEOs are now on social media. It's easy to understand why so many company chiefs are joining the bandwagon – social media is an excellent platform to showcase thought leadership and bring new ideas to table (or the world!) and influence others.
However, in order to be a successful thought leader you must be 'real' and relatable, which frankly is scary for many! That's why only few succeed. But, with the right strategy and mindset any business leader can profit from social media.
Here are a few considerations for any CEO considering diving into the world of social media. The most important thing to remember is to BE YOURSELF.
GO BIG OR GO HOME
If you have set up a social media account that you are not actively maintaining then it may be better to not have one at all. When creating an online presence, it is vital to post and participate in social media regularly in order to be well-received.
DIY
It is not difficult to pick out the CEOs that have people tweeting for them versus the CEOs that are actively engaging in social media themselves. In order to appear authentic and connect with others, the public has to know that what is being posted is coming directly from you.
TAKE A STANCE
In order to be more relatable, people want to know what personal beliefs, values and opinions CEOs hold. For example, the CEO of Apple, Tim Cook, took a stance on the recent Charleston Church shootings. He tweeted:

Sharing your feelings on social media allows others to see that CEOs are not just emotionless, business-oriented individuals. 
BE YOURSELF!
Having a social media account doesn't mean that everything you post has to relate to your business or brand. Because people are interested in whom someone really is, CEOs that stray away from purely business-oriented social media posts are often positively received.
Elon Musk, CEO of SpacX and Tesla Motors, has 2.26 million followers on twitter as he is great at informing his followers about his company, interesting news as well as his own personal life.

Jack Salzwedel, CEO of American Family Insurance, has 4265 followers on Twitter. While you can really get a sense of his personality through his social media account, he does so in a manner that still positively reflects the reputation of his company.
Here's a tweet that shows his love for music. See, CEOs can have fun too!

Cleary, he's not afraid to show the world his 'hipster' side!
BECOME YOUR BRAND
In order to connect with your employees, customers, and the rest of the world, CEOs must create, and even become their own brands.
The CEO of Pepsi stated, "when you become a CEO you're no longer your own person, you're a public property….". Thus, CEO's must be responsible for aligning their social media persona with that of their business and brand.
HAVING AN OPINON VS BEING RUDE
There is a stark contrast being sharing your opinions and being discourteous. When Apple revealed their music streamlining service, Spotify's CEO, Daniel Elk, responded with a two-word abrasive tweet.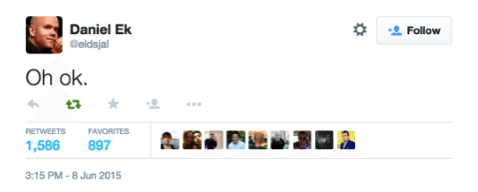 Although he deleted this tweet moments after, it is well known that nothing is ever completely gone on the Internet. As direct competition, this type of comment appears disrespectful and envious.
FINAL THOUGHTS
Studies have shown that if people know who you are, they will like you better. As a CEO, don't outsource your social media profiles. People want to see real and authentic. Take engaging in social media as an opportunity to reach and connect with consumers on a whole new personal level.