Crisis communication is something no one ever wants to do. If one of your employees accidentally tweeted something they shouldn't have, or your overseas contractor is revealed to have human rights violations, you need to think very hard about what your response will be.
We've been focusing a lot about how crisis communication is done wrong and how to avoid it, but today we wanted to talk about an organization that did all the right things (so far).
If you've been paying attention to the news lately, you'll know about Donald Sterling. The NBA recently charged the billionaire owner of the Los Angeles Clippers $2.5 million dollars for racist comments he made. On top of that, Mr. Sterling was banned for life from any NBA games in the future.
The NBA was thrust into a crisis situation. A team owner has said some incredibly racist remarks, which have also been leaked to the media. Civil rights activists, NBA players, politicians, and regular folk are all outraged. What do you do?
In the midst of all this chaos, one man rose into the spotlight as a hero: NBA commissioner Adam Silver. Here's what Silver did to avert the looming crisis.
Silver took Speedy Action
A lot of companies tend to sit on their hands and try to hold on until the scandal blows over and everyone just forgets about it. After only three days of the news breaking, he openly denounced Mr. Sterling and levied a huge fine on the Clippers owner. He also pushed other teams to vote that Mr. Sterling should be forced to sell the team to someone else.
Silver was Decisive
The 2.5 million dollar fine wasn't just huge; it was the maximum possible fine the NBA commissioner could have given. The penalty is unlikely to even dent the wealth of the billionaire, but it sends a very strong message: this type of language and behaviour is not acceptable in the NBA.
Silver Distanced the NBA from the Scandal
By drawing a hard and clear distinction between the NBA organization and the LA Clippers' owner, Silver has managed to separate himself and his organization from the scandal itself. This contained all the negative publicity to Sterling and spared the NBA of any real backlash.
How were Silver's actions perceived by the public? Take a look at the outpouring of support he's gotten from Twitter alone: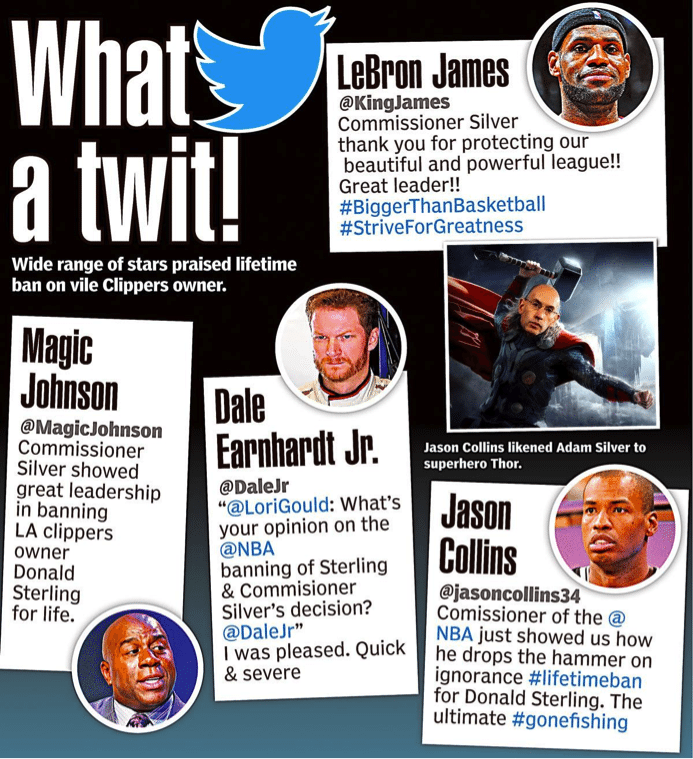 Image sourced from NY Daily News
Adam Silver and the quick thinking of the entire NBA organization turned a crisis situation into a brand-building one. They avoided the negativity and put themselves in a good light, and they deserve all the good will that comes with it.