Photo courtesy: Crocs
This article was written by our Marketing Strategist Heather Roy
The shoe that everybody loves to hate is back to sink its teeth into the global footwear industry, much to the scorn of fashionistas everywhere.
After years of relegating its classic clog to the recesses of its stores, Crocs is turning to the iconic, bright, hole-filled shoe, as well as customers, social media and broadcast to rejuvenate its brand. It's an integrated approach with a $10-million price tag.
Will the market respond? It's too soon to tell. But just over a month after launching its global #FindYourFun campaign – the largest marketing investment in the company's 12-year history – the future might be looking brighter for the shoemaker.
The new campaign – spearheaded by McKinney, a US-based ad agency – focuses on comfort and adventure and encourages Crocs-aficionados to post photos of themselves wearing the colourful clogs while doing activities they love.
And, so far, it's kicking off, as people proudly model their Crocs on the Twitter catwalk.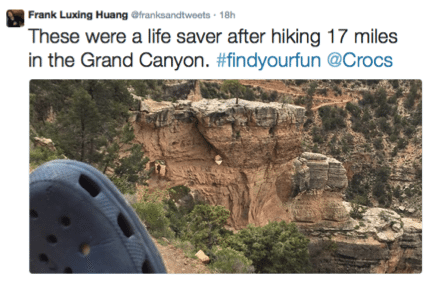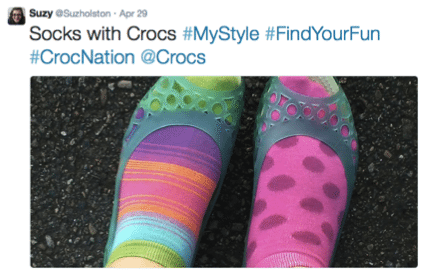 #FindYourFun is all about selling an experience first and a product second. Crocs is trying to prove, through its customers, that its shoes are great for every adventure – from a backpacking trip through Europe to a backyard gardening project.
The campaign is targeting the US, UK, Germany, South Korea, Japan and China and will be around 45 per cent on TV, 45 per cent digital and the remainder out of home (depending on the market), according to the Wall Street Journal.
But why would a company that sold almost 56 million pairs of shoes worldwide for a revenue of roughly $1.2 billion last year feel compelled to launch a marketing campaign in the millions?
Dwindling focus
As of 2014, Crocs had experienced a near 50 per cent drop in its stock price since 2006, according to the Wall Street Journal.
The diversity of styles that the company designed to combat the ugly shoe stigma garnered by its original clog, was coming back to bite Crocs.
The company had spread itself too thin, producing everything from leopard-print flats to fur-lined boots.
Stores closed and employees were laid off in an attempt to save money. This massive marketing push is simply an extension of the original cost-cutting goal, but with the added desire to refocus the company and attract new customers.
Will it work?
Marketing practices have certainly changed from when Crocs first launched in 2002.
In fact, Twitter, the social network that the new campaign is relying on to spread its message, wasn't even around until four years after the birth of Crocs.
But Crocs is certainly covering all its bases with a multi-platform approach. Nowadays people want to feel like they are connected to the brands they buy and social media is a great way to accomplish this.
Many companies have experienced great success with Twitter and Instagram hashtag campaigns. In 2014, Travelocity launched its #IWannaGo campaign, encouraging participants to post photos of their dream destinations on Twitter or Instagram with the hashtag for the chance to win a trip to that dream destination.
The roughly three-month-long campaign earned Travelocity 200 million social impressions (up 23 per cent from the previous year) and increased the company's Twitter following on the @RoamingGnome handle by 118 per cent.
Of course there were two factors at play in this campaign: social media and large prizes. Crocs is also giving away family four packs of shoes. But the campaign's success will only be revealed through the numbers over the next year.
What do you think? Can an integrated approach help revive a brand?