Thousands of people flocked to the SOLO District Block Party in North Burnaby for food, face painting, prizes, samples and more this past weekend.
It's an event that Appia Development – the developer behind the city's newest urban neighbourhood – wants to make an annual tradition.
Curve Communications was hired to launch the Block Party and we couldn't have asked for a better turnout.
Appia planned the SOLO District neighbourhood – located South of LOugheed (SOLO – get it?) and Willingdon – with livability in mind. The developer wanted stores, services and transit to be within steps from residents' doors and Saturday showed this vision in action.
Whole Foods, Shoppers Drug Mart, Starbucks, BCAA, G&F Financial Group, BC Liquor Stores, Modo, KOKO Nail & Lash Bar, Pho D'lite, Ricky's Café, SOLO Dental, Uncle Fatih's Pizza, and Stripped Wax Bar are all members of the SOLO District retail community and participated in the Block Party.
Businesses had booths where they could showcase their products and offer promotions and on Saturday they definitely delivered high-quality giveaways and activities.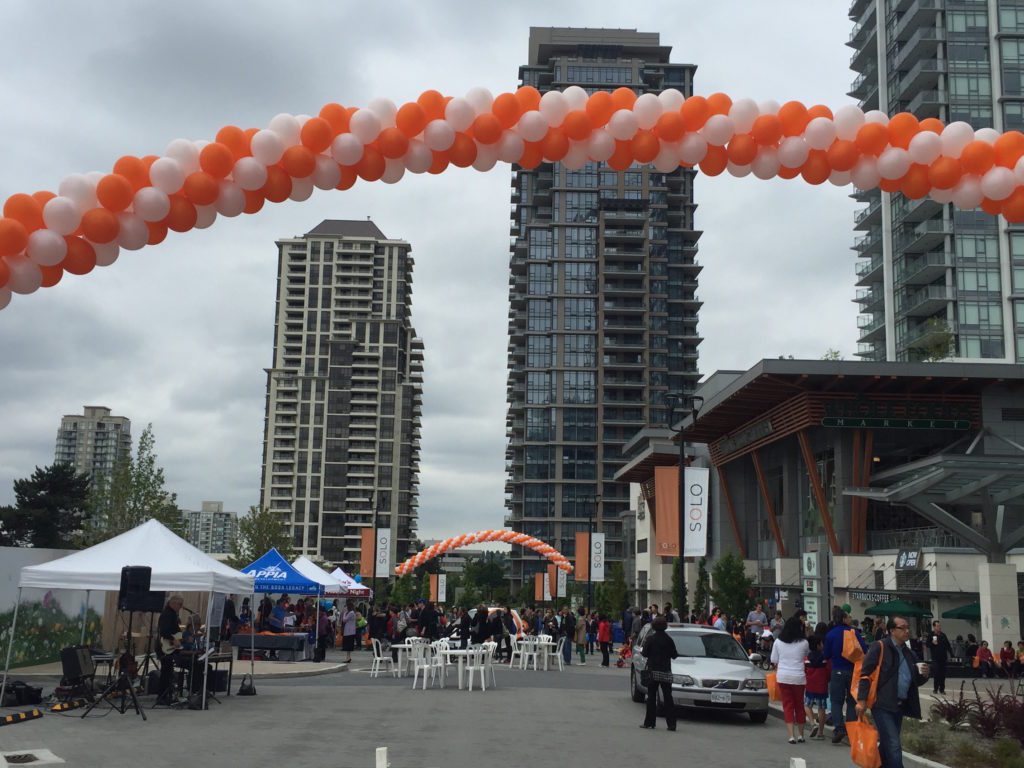 Starbucks handed out 200 reusable mugs, G&F Financial gave people the chance to win a free tablet, and KOKO Nail & Lash Bar gave away gift cards.
SOLO Dental had a photo booth where visitors could put on props and snap shots. Shoppers Drug Mart provided make-up consultations and free samples, and Whole Foods offered a smorgasbord of tasty treats from producers like Vega, Freeyumm bars, Seasnax, Okanagan Rawsom Crackers, Hippie Foods Clusters, Daiya, and Acropolos Olive Oil.
Ricky's let visitors spin a wheel for the chance to win coupons for free menu items and Stripped Wax Bar offered customers 10 per cent off for booking appointments. Z95's mobile crew were there playing music, offering games and prizes and letting Z listeners know about the event.
In addition to planning the block party and liaising with all the vendors, Curve designed all the creative materials, ordered two huge balloon archways, booked entertainment, and managed the advertising and promotions campaign, as well as social media and logistics on the day of the Block Party.
We have worked with Appia for a long time now – well before construction crews broke ground on Altus – the community's second residential tower. So, it was an amazing experience for our team to see the community transform from a construction site and renderings to a thriving and vibrant neighbourhood.
We can't wait to see how much the community grows between now and next year's Block Party!