For a long time, Tumblr hasn't enjoyed the same level of popularity among businesses compared to Facebook, Twitter, and other well-established social media platforms. However, with its powerful new ad capabilities and engaged user base, Tumblr should definitely be (at least) a consideration for any company that wants to build up their brand.
What exactly is Tumblr?
Tumblr is quite simply a network of image and video bloggers. When you log in to Tumblr, you can scroll through recent posts from bloggers you follow on a centralized dashboard. The more people you follow, the longer your dashboard is.
Most posts on Tumblr are photos, animated GIFs, or even videos, though text posts are still somewhat common. Below is a quick look of the basic Tumblr dashboard.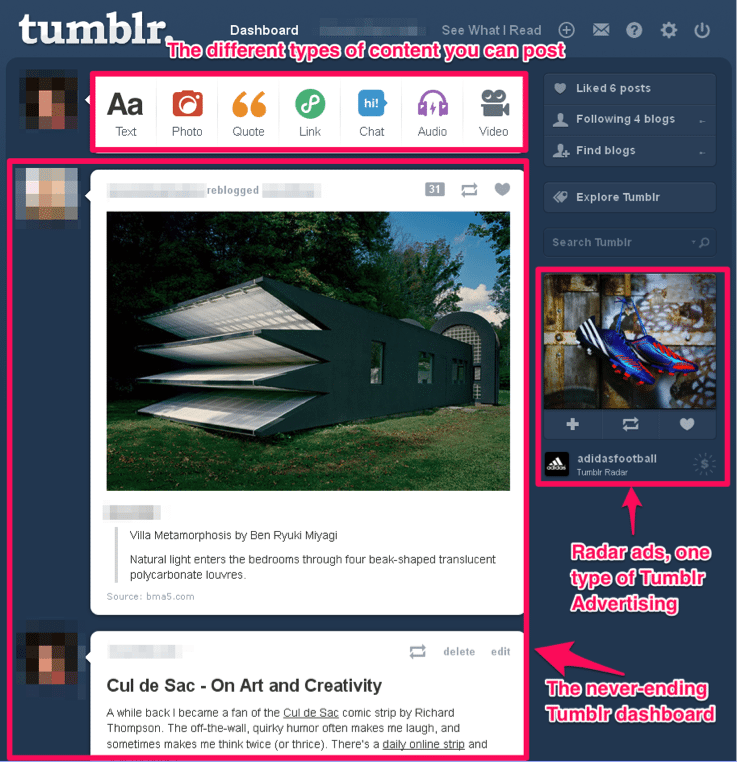 Although Tumblr is a hit with many young people, an analysis by Alexa shows that Tumblr is disproportionately popular with high school and college aged females.
If you're still on the fence, here are five reasons why your business should consider adding Tumblr to your social media profile.
Built-in word of mouth infrastructure 
Whenever you post something, anyone can "reblog" (AKA retweet) your content with a touch of a button. If you have visual content that resonates with your audience, it could easily spread to hundreds of thousands of users. To see what does well, each post has a total number of "notes" that show how often it's been reblogged or liked (see example below). Research what trends your followers love to share and become a part of it. To further boost your reach, you can add also #hashtags to each post.
Full customizability
Unlike Twitter or Facebook, your profile page can be radically different. There are plenty of user created templates you can use for free, but anyone with some basic HTML knowledge can put together a coherent page theme. Take a look at Coca Cola's profile page compared to Calvin Klein below. Two very different designs for two very different brands.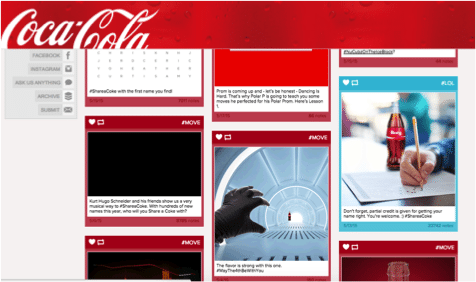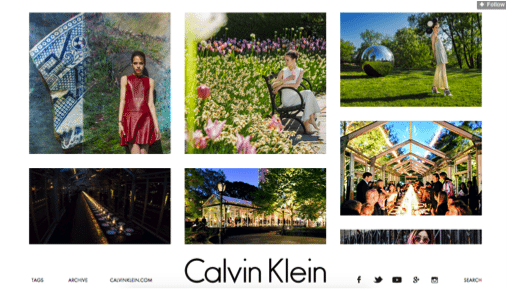 Post a wide variety of content types
If your business works with a lot of images, Tumblr is a fantastic place to show off what your brand has to offer. Visually intense blogs on Tumblr generally perform much better than standard text posts. While videos are very popular as well, not many people will have the attention span to sit through an entire clip. We recommend splitting some of your videos into gallery of one to two second animated GIFs.
Build up your brand without investing hours of your time
Tumblr, like all social media networks, move at breakneck speeds. If your blog is inactive for a few days, you'll soon find yourself losing followers. If you don't have the time or resources to take photos or record videos all day, you can still reblog relevant content from others to promote your brand values or lifestyles. For example, if you sold bikes for a living, you could reblog mountain biking trails or the Tour De France to keep your followers happy.
Posts can be easily scheduled ahead of time or added to an automatic queue to keep your account active and fresh throughout the week.
Comprehensive Ad Platform
For a very long time, Tumblr resisted advertisements in an attempt to keep all the content creative and community-focused. However, the social network has opened its doors to advertising in the last few years, opening a Tumblr has two different types of advertisements, radar ads and native ads. Radar ads are ones that show up on the right of the dashboard (see the example above).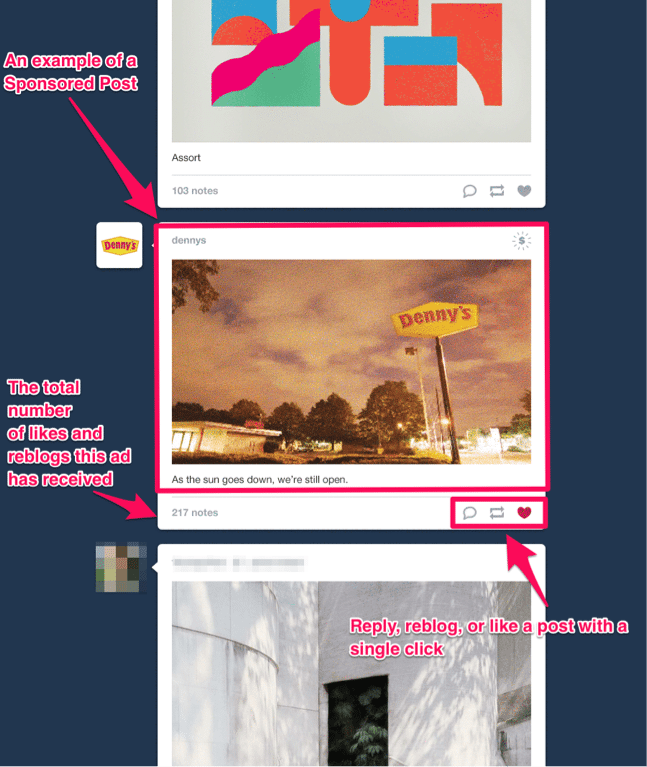 The second type is native ads, which blend right into Tumblr's dashboard. Tests from Facebook's Audience Network (which we talked about a few weeks ago) showed that these types native ads are very effective. Tumblr's ads appear right on the dashboard, and can have animated GIFs and autoplay videos to catch the attention of your viewers.
For more information about brands that have successfully used Tumblr's advertising, click here.