Every January, the momentum of the New Year drives many marketers to write down their business resolutions: Build a better website; Write a solid social media strategy; Make more money. The first few days of January are filled with hope and limitless possibility.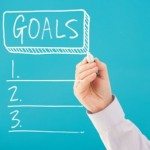 And then, inevitably, Failure February rolls in. You still haven't cracked the spine on your new marketing book, and your Twitter feed is virtually dead. Don't worry…you are not alone. Statistically speaking, 46% of people who make resolutions fall off the wagon by the end of the month.
If you want to see results, you have to set long-term goals. Goal setting helps build long-term habits and change behavior, while setting resolutions is often shortsighted and fleeting. Here are some tips to help you achieve your business goals (and you don't even have to wait until next January!):
Be Realistic – How much time and energy can you really devote to this goal? Try not to bite off more than you can chew—break your larger goal into smaller, more manageable 'chunks.' If your business is just starting out, getting on Google's front page might be a daunting task. A more realistic goal might be to improve your current SEO strategy and increasing traffic by 50%.
Make A Plan – Now that you know what you want to accomplish, make sure you write it down. Write out all the little steps that you'd need to take to accomplishthat goal: calling the web developer, setting up a social media management tools, drafting new blog ideas, etc.
Measure Your Results – There's not much sense in making a goal if you can't measure results. "Increasing social engagement" is vague while "Gaining 50 Twitter followers, and 50 Facebook Likes" keeps you accountable.
Partner Up – Often times when we make a resolution, we get de-motivated and give up. I find that I usually stick to my goals when I talk about them with supportive friends or colleagues; people who will hold you accountable and keep you motivated!