Do you find yourself having trouble concentrating at work?
Everyone has their own little systems to maximize their productivity, whether it's Post-it notes or listening to music. Here are some we use at Curve to stay focused and productive throughout the day.
Set the mood with Zenwriter
Zenwriter is a basic document program that helps get words out on the page. It provides you with a choice of numerous backgrounds and ambient music tracks to keep you writing.  Zenwriter is very good at helping you focus and de-stress, even with multiple looming deadlines.
Personally, our favourite part of this program is when you can set up typewriter sound effects for every keystroke. There's just something satisfying about pretending you're on a typewriter.
Use Lucidchart to plan and share your ideas
If you don't have Powerpoint (or just don't like it), Lucidchart is a free online program where you can easily create flowcharts, mind maps, and much more. Compared to other flowchart and charting platforms, Lucidchart is intuitive and easy to learn.
Our favourite feature of LucidChart is its collaborative nature. By sharing the unique URL with your co-workers, they can plan together with you in real-time. This makes Lucidchart perfect for strategy meetings and group projects.
A free trial is available for 2 weeks, but it might be worth a subscription if you find it boosts productivity for everyone in your department.
Getting organized one task at a time with Evernote
For any business that has to keep track of multiple deadlines at once, Evernote provides a nice simple way to organize your all your to-dos. To-dos can be organized into separate "notebooks" and further categorized with tags. Signing up is free, but there are many benefits to becoming a premium member as well, such as mobile access, related notes, full-screen, and one GB of uploads per month.

The sleekness and smoothness of the app makes it easy to integrate into your everyday routine. If you find yourself scatterbrained or absent-minded, Evernote will go a long way towards keeping you on track. 
Go ColdTurkey and cut out the distractions
For all the benefits that social media and technology gives us, it makes for a very distracting workplace.
ColdTurkey is one way to fight that addiction. You specify a list of distracting sites and a date range and the program will block you from going back to any of these sites. You can even specify programs on your computer to block off!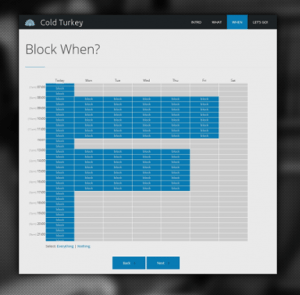 For students, if you have a paper due next Monday, you can schedule the program to cut you off from all your distracting apps, sites, and games for the weekend.
Where ColdTurkey excels is that there's no real way around it. You can't use a different browser or even kill the process using task manager. It's a hardcore process, but it guarantees a couple of hours of productive working.
Ready to get to work?
Remember, you are only as productive as you want to be. These tools are helpful, but you need to make sure you're motivated enough to do the work in the first place.
What are your tools and tips for being productive through the day?