Yesterday marked the 27th year that Family Services of the North Shore hosted their Winter Family Ball. Held at the Fairmont Hotel Vancouver, this yearly fundraiser brings "families helping families" together to raise money for children and youth counselling and prevention services.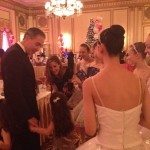 The Goh Ballet Society helped raise funds at the silent auction event, donating a VIP experience to the opening night performance of The Nutcracker. The night was a huge success, with silent auction, raffle, kids' activities, dinner, dancing and desserts. A few Snowflakes from The Goh Ballet Academy made a special appearance during the cocktail reception, much to the delight of all the guests – many of the younger set in particular!
Family Services of the North Shore is a not-for-profit agency, offering counselling and support for children, youths, adults, couples and families.
Goh Ballet's The Nutcracker is touted as "The ONE to see" by The Province, and runs from December 19-23 at the Centre in Vancouver for the Performing Arts. Tickets start at just $28 and are available at Ticketmaster.