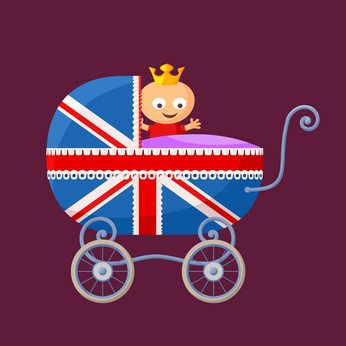 Written by Justin Wong and Amanda Bates
In case you (somehow) missed the news, The Duke and Duchess of Cambridge have named their newborn daughter Princess, Charlotte Elizabeth Diana.
What's in a name?
If we were to close our eyes and pretend that the Royal Family is just another business organization (Diana herself used to call them "The Firm"), the choice of this baby's name is a very smart move. The full name "Charlotte Elizabeth Diana" is an homage to different members of the royal family.
Charlotte has always been an incredibly popular girl's name in the UK, according to Baby Centre. It was ranked 17th most popular name in the country in 2014 and has rarely dropped below 100 in the top 100 names. In addition, Charlotte is the female form of Charles (little Charlotte's grandfather of course) and it's also the middle name of the baby's Aunt Pippa, Kate's sister.
Elizabeth is a nod to everyone's favourite ruling monarch, Queen Elizabeth the Second. Diana is, of course, named after William's late mother, Princess Diana.
For the "new" Royals to pick names that will resonate with the British (and Commonwealth) public, with close family members and with traditionalists, will help solidify their place in popular history yet again. Smart PR moves for a smart couple, who have understood the Royal family needs to be more accessible, less aloof and more accountable to the taxpayers who fund their existence.
When their first child, Prince George was born nearly two years ago, William and Kate chose a name that while very regal (and the name of William's great-grandfather), has also been extremely popular amongst new British parents for the last 15 years or so.
The Cambridge's ability to have their finger on the pulse of popular culture, and to recognize a need to give their children a taste of "real life," much as Diana did with William and Harry, has seen the Royal Family gain the type of support not seen in decades.
Let's not forget public reaction to Diana's tragic death in 1997 shook the Royal family to its core, and saw their popularity plummet as they struggled to reflect a public opinion many of them simply did not comprehend.
William has managed to tread a very steady path; he has succeeded in bringing the family back together in the eyes of the British public, he has breathed new life into The Firm while maintaining the respect of the Queen, and he wants his children to live as normal a life as possible; something that surely will be the hardest thing of all.
The Duke and Duchess have been the best PR the Royal Family could ever have hoped for. And the naming of their new daughter is yet another point scored in winning the approval of their public for years to come.