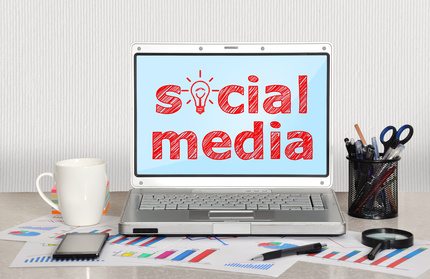 The next time you're writing a marketing plan, think about whether social media should be a part of it.
The Benefits of Social Media Marketing
For a long time, social media marketing was something that every business wanted to get in on. Every expert in the business said you needed to be on Facebook, Twitter, Instagram, Pinterest, etc. etc.
Are they wrong? Not at all. We just want to make sure you manage your expectations.
Like any other marketing channel, social media is a tool. It's not a magical solution for all your marketing problems. A savvy businessperson needs to understand what social media can do for them, as well as measure its results.
Define your Brand
There's no cheaper way to build and define your brand to the public than by doing it through social media. Red Bull drives home their brand message of a wild and extreme persona through a lot of their tweets, posts, and online publicity stunts.
Taco Bell and Denny's have become infamous online for their witty and humorous tweets.
Consistency is important. If you're trying to position yourself as a kid-friendly clothing supplier, you should probably not post about death metal albums or international politics too much.
That doesn't mean you're forced to ONLY talk about industry specific content. Always feel free to comment on current events or local news; just don't go too overboard with it.
Brand Champions
A brand champion is a customer (or potential customer) that is genuinely in love with your or brand. Finding and nurturing brand champions has always been difficult, but with social media, it has become much easier to identify and interact with these elusive individuals.
Find them, encourage them, and give them exclusive access to reward their loyalty, and they'll be more likely to influence their friends towards your product.
We actually wrote all about brand champions a while back, but if you were really a brand champion of ours, you would know that already! Take a look here.
Drive Traffic to your Site
Does your site need more traffic? Of course it does. Social media can become a significant source of visitors to your website as long as you post the right content.
Any blog articles, videos, or news events you upload to your website can (and should) be shared on social media to increase its reach. Social media marketing can be an effective "bridge" to connect people to your website.
Most importantly, you need to analyze the results. Find out which posts and tweets performed the best and use that to improve yourself.
Boost the Effectiveness of Existing Campaigns
One key point of advertising is that it takes multiple "hits" before someone actually purchases your product. If someone just sees your commercial once, they'll probably forget about the commercial less than 20 seconds later.
However, imagine if they see your commercial on TV, hear your ad on the radio, see a front-page ad for your product on the newspaper, and see promoted posts and sponsored tweets on Facebook? Timing any Facebook or Twitter ads with a radio or television campaign can boost their effectiveness. Can you even remember any commercial you only saw once?
Retargeting Potential
Speaking of increasing repetitions, Facebook allows you to use a retargeting pixel to hone in on potential customers. Anyone who clicks on your ad even once will be "marked" by a tracking pixel. You can then send ads over and over directly to those people. It's a great way to hyper-target your audience and make the most of your budget.
Obviously we're only scratching the surface here, but this should give you a good idea of how social media marketing can benefit your overall marketing plan.
Getting pumped up for a new marketing plan? Come and drop us a line here.