Valentine's Day is fast approaching and it's important to seize the day! Holiday marketing is one of the oldest yet most effective ways to get a response from your audience. The end goal here isn't just to post something because everyone else is doing it, but it gives you a chance to engage with your followers.
Here a couple of things you can do for Valentine's Day, and how other companies have handled it.
Throwing Up a Text Post
We understand. You're a busy company and you have important things to do. At the very least, try to make a simple post that acknowledges the existence of Valentine's Day. It takes a second or two but talking about coming events and holidays can help you build a connection to your followers. This is important because it adds authenticity to your brand.
Pro Tip – Promotion, Promotion, Promotion!
Put a call-to-action in your post. If you have an existing promotion going on, put a Valentine's spin on it and promote it in your Valentine's Day post.  Although Burger King only has a text post, they use the post to promote one of their signature products.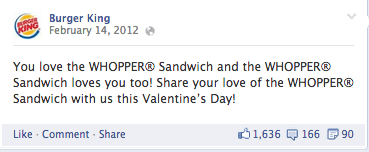 Use a Photo to Attract Attention
Using visual media makes a huge impact on getting people to notice your content. Photos and video posts will also appear higher on your followers' news feeds as well, so try to use them whenever possible.
In terms of photo content, posting a generic photo of hearts or chocolates makes you the same as everyone else. Go a step above everyone else by tying the photo in with your brand. This will help people associate your company with Valentine's Day.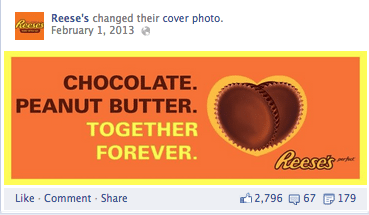 Reese's goes a step further and changes their entire cover photo to a Valentine's Day theme. By tying their products into the holiday, people will easily associate the brand with the holiday.
Pro Tip – Engagement is Key
Never just say "Happy Valentine's Day" and leave it at that. Ask your followers about their plans. Talk to them about what they like or dislike the most about the holiday. Use the holiday as a reason to engage with your user base.
Holiday marketing isn't very hard, but remember to do it early and plan around it. Valentine's Day only comes once a year so it's important to make the most of it.