This blog post was written by Curve Communications Vice President Amanda Bates
Last week, the team at Curve Communications was given the opportunity to attend a preview screening of the new Sandra Bullock/Billy Bob Thornton movie Our Brand is Crisis.
Watching a movie about a political spin-doctor turning around the polling fortunes of a Bolivian presidential candidate might not obviously equate with the work we do at Curve, but it does, and that's kind of the point.
The moral of the story (although the tale itself is sadly lacking any actual morals), is that your brand is whatever you choose it to be, wherever you are, and whatever your product is. In this case, to increase the popularity of their candidate, Sandra Bullock's team chose to make their brand "crisis", to scare voters into supporting change.
Crisis communications, amongst many other things, is something we handle at Curve. Brand creation and development are also on our checklist.
Combining the two, and coming up with key messaging, promotional campaigns to get the word out and media training are also things we do really well.
We're not saying we would have taken on the client in Our Brand is Crisis though, and even if we had, we most definitely wouldn't have employed most of the tactics the two PR campaign managers initiated when things got really dirty. In fact some of them got us questioning where the line between reality (as it's based on a true story) and a Hollywood storyline had been drawn.
But it goes to show the importance of knowing your brand and messaging and sticking to it – and just as important, knowing what your competition is saying about themselves AND about you.
Recently of course we had our own federal election campaign where the result was decisive, and the campaign itself focused on the candidates probably more than the issues. We've discussed how the three main parties were positioned and how Justin Trudeau won in a previous blog post, but as far as "Our Brand is…", where did those parties stand?
Stephen Harper's Conservatives: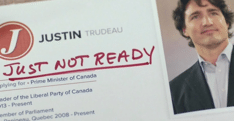 Our Brand is Inexperience – they pushed home over and over again, that Justin Trudeau was "just not ready". The Conservatives took the stand early on that they would place all bets on voters sticking with what they know, rather than taking a risk on someone who hadn't been Prime Minister before – even though he'd had a pretty good front row seat. We know what happened here, but was this type of campaign Harper's only option when it came to running against a charismatic candidate with a political legacy? It probably was.
Justin Trudeau's Liberals: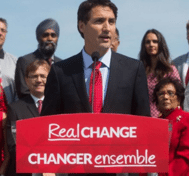 Our Brand is Change – knowing that the Conservatives had made a lot of unpopular decisions, and had a tide of dissatisfaction riding against them, the Liberals wanted to convince voters that Stephen Harper's party was tired, and was making decisions that were hurtful to Canada, so therefore, change is good. The late campaign ads from the Conservatives where Stephen Harper repeatedly told the camera "this election is not about me", seems to show the party recognized the Liberals were succeeding in making Harper even more unpopular.
Thomas Mulcair's NDP: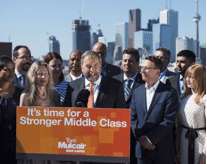 Our Brand is "Don't Be Scared Middle Class" – without Jack Layton at the helm, the NDP had a problem. Layton had been a charismatic, smart, well-respected politician who had the support of the left, yet was appealing to centre left, wavering Liberals and undecided voters all at once. Thomas Mulcair had an unenviable task – to convince the middle class he was electable and non-threatening and that he wouldn't bring in crushing tax increases. We all saw what happened with the Mulcair campaign, but perhaps one of the real problems was that compared to the polarity and noise surrounding the other two, he just kept losing ground and supporters.
Your brand is whatever sets you apart from the competition and will be viewed in a positive light. It's what you're doing right, and what you do well – and how you sell it will define your success.
If you need crisis communications, or a brand build, rebuild or help with your messaging, contact Curve Communications today.