With an estimated 3000 tweets being sent every minute, your content needs to stand out and rise above the clutter. Clever puns or hashtags are great ideas to get noticed.
Whatever you do, don't, and we repeat, don't, try to capitalize on a serious world issue by making light of it.
Twice.
Remember this?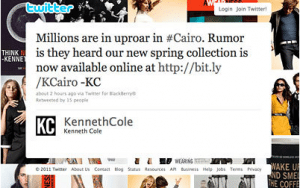 This was Kenneth Cole's 2011 attention-grabbing tweet, using the Arab Spring to publicize online shopping.
On Thursday, September 5, with the US on the brink of military action against Syria, this tweet appeared:

To clarify "boots on the ground" is a term used for the forces engaged in conflict.
If Kenneth Cole's sole objective is to seek attention, then to steal another military term, "mission accomplished." But at what risk? The potential to lose consumers and lucrative partnership deals?
Rise above the clutter. And rise above controversy.