Carelessness. Stupidity. Mismanagement.
There are a lot of ways to describe some of the events that happened in the last week, but none of them are very positive. It's a harsh reminder for the rest of us that poor or thoughtless use of social media can backfire.
We'll start with US Airways.
A customer tweeted US Airways to complain about a flight delay, but for some reason, US Airways tweeted them back with a pornographic photo. Apparently, the image was originally tweeted at them from another customer, but instead of flagging the image, they accidentally included it in an attachment for their next tweet.
Even after they took the tweet down, US Airway's apology had been retweeted almost 13,000 times and was trending all across the Internet.
Coincidentally, another airline-related news article exploded around the same time on April 14th. A Dutch girl tweeted at American Airlines, telling them that she was a member of Al Qaeda and that she would "do something really big" on June 1st.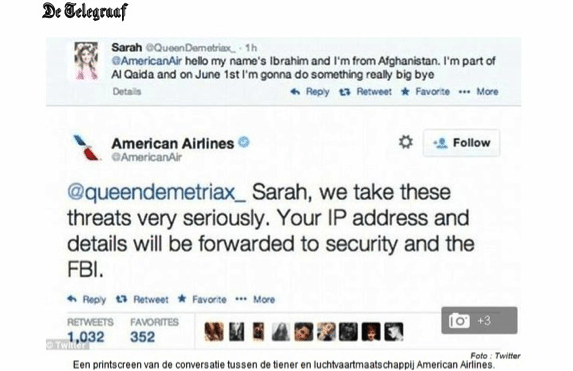 Image sourced from CBC.ca
As you can see, American Airlines was less than impressed. The whole debacle ended in the Dutch police arresting Sarah. It's shocking sometimes how invincible people believe they are when they're talking over the Internet.
Social media has become so completely routine for many of us that we don't think about the consequences of what we say. Irresponsible tweeting results in social media carelessness (such as the US Airways porn example), or sometimes what you think is "light-hearted humour" might turn out to be an international scandal (like with Sarah and American Airlines).
Remember, the Internet is a revolutionary tool for communicating with others across the world, but if you think you can do whatever you want on it, you're definitely in for a bad time.