What an absolute honour it was to work with the legendary Doug Coupland last week in Toronto, as he launched his first furniture collection with our wonderful clients SwitzerCultCreative.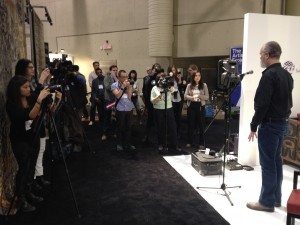 This was a huge event for Curve Toronto and Curve Vancouver as we worked on launching the line at the massive Interior Design Show, IDS 13, at the Metro Toronto Convention Centre. 

At one point during our media blitz, Amanda was sat in the back of a towncar, chatting with Doug while being driven to a national interview for CTV Newsnet at the iconic former Citytv/MuchMusic building, thinking; "OK, this is one of those once-in-a-lifetime moments…".
To see the effect that Douglas Coupland has on people around him is quite something. This is a man who has written 13 novels (as well as countless other ventures in tv, film and design) – and those pieces of work have ACTUALLY DIRECTLY affected people. Real people, people! Douglas has had an impact on their lives through respected works – now isn't that something to aspire to? (I'm talking to you, Kardashian's). To be able to introduce some of those young people to their hero, now that they are reporters, bloggers, videographers etc. is really inspiring. To see their reactions before and after they meet him – it's like they've been in the presence of a rock star – but one who's actually cooler and a lot more articulate. 
The Douglas Coupland for SwitzerCultCreative collection is stunning. It is sleek lines, Asian inspiration, smooth surfaces and pure class. The line is available through www.switzercultcreative.com and you can read more about it in the New York Times, Wallpaper Magazine, The Globe and Mail, The Vancouver Sun, Ottawa Citizen, Metro Newspaper nationwide, Western Living…and, well…most places, because what a blast this has been media coverage wise! Thank you Douglas and thank you Renee and Allan Switzer.