Thor Diakow from Breakfast Television visited Chan Hon Goh and her amazing group of ballet dancers, who will be performing The Nutcracker this holiday season.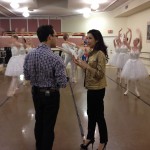 Always a good sport, Thor did his best pirouette for the cameras. Dressing up as the evil Mouse King, Thor even tested his mettle and duked it out against the Nutcracker.
Thor interviewed many of the people integral to the production of The Nutcracker. Fiona Smith, Goh Ballet's Principal Teacher and Coach, took time out of her busy schedule to show Thor the waltz.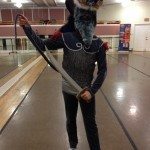 Deborah Basterfield, wardrobe mistress, provided Thor with a behind the scenes access to the amazing wardrobes that will be used for the production. And of course, Thor interviewed the Executive Producer of The Nutcracker, Chan Hon Goh!
For all you late risers, you can view all segments right here.
Goh Ballet's The Nutcracker is touted as "The ONE to see" by The Province, and runs from December 19-23 at the Centre in Vancouver for the Performing Arts. Tickets start at just $28 and are available at Ticketmaster.