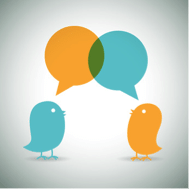 Written by our intern Jenna MacDonald
Ever think you could use Twitter to find a job? Well, you can!
When people think about using social media as a resource for finding jobs, many automatically assume LinkedIn is the only way to go. However, Twitter can also be a powerful resource for job hunters. You can use it to reach a comprehensive network of people, including companies and hiring managers.
So, why is Twitter so great for finding jobs?
Twitter is a great way for recruiters to get a sense of your qualifications, personality and talents. Twitter gives you an opportunity to reach and network with those you normally wouldn't have access to in the real world.
What sets Twitter apart? Employees and recruiters often have very busy schedules. However, many people always make time to check their social media accounts. This means your tweets have a higher chance of getting noticed by the right people. The speed of Twitter means it may be more convenient for them to reply to your tweets rather than having lengthy conversations over the phone or in person.
If you're looking for a job posting, Twitter can also be a useful resource. Many companies post current job openings on their Twitter accounts before anywhere else.
Twitter is also a good way to find valuable information before a job interview. By looking at a CEO's or employee's Twitter account, you can get a better sense about what the company is like, their stances on certain issues, and if you think you would be a good fit for the company.
Here are some tips you can follow to make the most out of Twitter,
Create an attractive profile
Before anything else, try to create the type of profile that employers will want to explore. Even though we all know to never judge a book by it's cover, that first impression is still crucial.
The first thing that people see on a Twitter profile is a user's picture and bio. This is your chance to make a strong first impression that will make people want to click on your profile.
Make sure your profile picture is identifiable and professional. This mean avoiding posting a group picture or any photograph that you wouldn't want your potential boss seeing!
Be engaged!
The next important step is to follow, follow, follow! Take the time to figure out the industry you are targeting and then begin following the relevant people.
Having a healthy network on Twitter is attractive to recruiters. Why? Because a company will inherent the social network of the individual they choose to hire. So, built a strong network of people both inside and outside of your chosen industry. The more followers you have, the more of an influencer you will appear to any potential employers.
Also, keep in mind that it may be more helpful to follow individual people rather than a company's official Twitter account. Leaders and employees of a company will be much more likely to respond. If you do enough research, you may even be able to follow the people in charge of recruitment!
Once you feel you are following suitable targets, start to engage with them. You can retweet and favourite any of their tweets that you find interesting. More importantly, you can start replying to their tweets and start engaging in conversation!
After interacting through retweeting or replies, you should take the next step and send a private message to your target. Let them know that you are looking for new experiences and opportunities!
Create content
The content posted on your Twitter account is vital. This is where employers will get a feel of who you are, what your skills are, and if you are suitable for the position.
Although it is important to retweet, don't solely rely on this. Create your own content! Make people WANT to follow you.
Try to share and create content relative to your specific field. Let others know that you are a thought leader and up-to-date in your field.
Even though you want to remain professional, it's important to let recruiters get a sense of your personality and your interests outside of your career.
This is also a good time to show off! If you have anything you are proud of and want others to see, don't be afraid to tweet links to blog posts and any of your other achievements.