I was honoured to be invited to attend the launch of Vij's Kitchen at UBC last night, by our friend and client, the wonderful Vikram Vij.
By showing up a little early, I got a glimpse of what this important project is all about: the education and training of the chefs, dieticians, and nutrition experts of the future, courtesy of Vikram and his wife Meeru.
It has cost a lot of money to reinvigorate this food laboratory, originally built 20 years ago. But it is a valuable investment for Vikram and Meeru who are both huge supporters of UBC's food, farming and sustainability programs.
Six training stations were populated by students eager to learn from a master yesterday evening. They had been working on the dishes that would be served to specially invited guests attending the official launch of Vij's Kitchen at 5pm.
As the clock swept nearer to five, students got their final tips on how to plate their dishes. They listened attentively and there was a collective "ohhhhh" when Vij transformed the look of one dish, simply by adding a sprinkling of nigella seeds, which were actually adorning the counters as a decorative addition.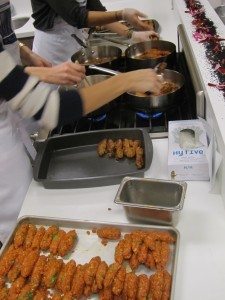 A variety of wondrous foods awaited the guests: a jackfruit curry (what the heck is jackfruit? Is it an actual fruit? I'll tell you that it's DELICIOUS and despite being vegetarian fare, it has the look and consistency of meat!), prawns cooked to perfection, mutton kabobs and an amuse bouche consisting of beans on a cracker and topped with stunning chutney, which is regularly served to waiting customers at Vij's infamous south Granville restaurant.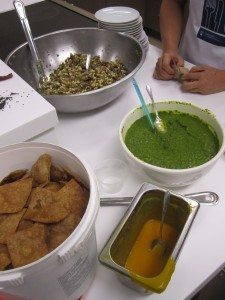 Vij's Kitchen offers students not only the opportunity to learn in a state-of-the-art facility, but when it also affords the possibility of learning to cook dishes from Vikram Vij himself – well, that is an education indeed.