Everyone who writes for a company's blog has likely questioned the efficacy of blogging, and to be fair, it's a question that deserves answering. Taking into account the researching, writing  and editing, populating a blog with regular content constitutes a major investment of time and resources for most businesses. As I will show, like most marketing and public relations, the value of blogging is in the details, and thanks to Google's newest updates, these details are more important than ever.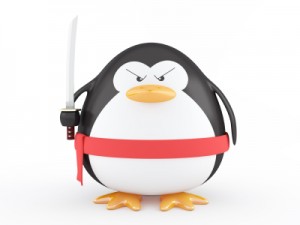 The primary purpose of blogging for a business is to increase online visibility (aka SEO). Great search engine optimization is the pot of gold for every business. If it seems intangible and malleable it's because it is! Google's (very) complex algorithms are constantly "evolving" in order to stay ahead of those (I.e., you) who wish to understand and utilize them in order to better their own SEO.
Google's Penguin, the most recent algorithm, negatively targets black hat SEO tricks such as key-word stuffing, duplicating content and link scheming. What does this mean for blogging? Simply put, you need to publish quality content. What do I mean by this?
Write content that is related to your keywords
Post content that is likely to be shared by others on social media sites
Write content with other websites in mind. Would they want to publish your content?
You're likely seeing a pattern here. You need to have substance to your content. Creating original and interesting content is the best way to have your blog widely read and subsequently shared. Google Penguin places a premium on content that is:
Posted on other websites (I would highly recommend you offer to write a guest blog on other websites)
Read by a high volume of people, both on your website and on others
Mentioned on social media platforms (Facebook, Twitter, LinkedIn, etc.)
This is the best way to work within Google's framework – even if you view Penguin as the ghost in the machine. However, this is only the SEO benefit. Following the steps outlined will also create a stronger customer relationship. Blogging quality content:
Increases the number of visitors to your site
Increases the amount of time people spend on your site
Increases the click-through rate of your website
Ignore, for a second, SEO. Customers who spend more time on your website provide you a better chance of developing a relationship. They're more likely to see your personality and not just your business, which only heightens your odds of creating a repeat customer. You're likely seeing a cyclical relationship here. The better content you blog, the more people with empathize with your business, which will drive traffic to your site, which will increase your SEO, which will drive even more traffic to your site (who will read and endorse your great blog).
For further reading, Brad Shore wrote a must-read article about blogging for businesses titled "You Must Blog and Blog Smart in 2013." While Shore admirably covers the SEO benefits of blogging, what separates his article from others is how this goes hand-in-hand with customer experience. Shore deftly makes the connection between human experience and SEO ranking.